You are here
Cisco WLC (Basic) Video Bundle
Topic:
Cisco Wireless LAN Controller (Basic)
Total Duration:
10 Hours 30 Minutes (approx.)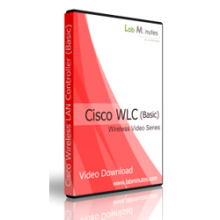 This video bundle features a complete video download set for Cisco Wireless LAN Controller (Basic). With over 10 hours of lab video tutorial, you will be able to get up to speed and become more familiar with the technologies. Buy this video bundle and view them locally on your computer at your own pace without internet connection, and also save over 20%. This video bundle provides fundamental knowledge and configuration procedures for implementing Cisco unified wireless solution based on AireOS platform. You will be able to get your wireless system up and running by the end of this video bundle. This bundle is perfect for network admins who need to learn about Cisco wireless, network engineers who wants to dig a little deeper and understand the underlying technologies or those that are studying for Cisco Wireless Certifications.
Please note that this video bundle covers AireOS only (no IOS XE) with topics listed below. Videos on more advance wireless topics will be available in a separate video bundle. A purchase of this video bundle will be eligible for any future video releases that are considered basic (
under our 60-day policy
), and NOT eligible for any videos released under the
Cisco Wireless LAN Controller (Advance) video bundle
.
Not knowing which video to start with?
We recommend our audience to watch videos WL0001-10 in this order. Videos after WL0010 can be watched as needed based on features pertained to your interest.
Video List
WL0003 - WLC Basic Installation

39:41

WL0004 - WLC Introduction to Web Interface

52:45
WL0005 - WLC Access Point Registration

43:17
WL0006 - WLC Access Point Authentication

35:06
WL0007 - WLC Access Point Basic Configuration

36:27
WL0008 - WLC Interface Type and Redundancy

35:23
WL0009 - WLC WLAN SSID Configuration

37:56
WL0010 - WLC Access Point Sniffer Mode

29:44
WL0011 - WLC DHCP

19:26
WL0012 - WLC L2 Security MAC Filtering

19:00
WL0013 - WLC L2 Security WEP WPA and 802.1X

31:42
WL0014 - WLC L2 Security Local EAP

29:45
WL0015 - WLC L3 Security Web Authentication Portal

38:43
WL0016 - WLC L3 Security Web Authentication User

24:52
WL0017 - WLC L3 Security Passthrough and Web Redirect

21:29
WL0018 - WLC L3 Security Web Portal Customization

27:27
WL0019 - WLC L3 Security Wired Guest

16:15
WL0020 - WLC Radio Configuration and RRM

43:45
Bonus Videos
WL0001 - vWLC 7.3 VMware Installation

25:00
WL0002 - WLC Software Upgrade

14:04