You are here
What You Need to Know About Cisco IE-3000 Industrial Ethernet Switch
Submitted by

admin

on Tue, 08/13/2013 - 21:50
If you are looking for Cisco switch to operate in an extreme environment, one of your options might be Cisco Industrial Ethernet 3000 (IE-3000). I have recently had an opportunity to review this product and quickly realized its differences from regular Cisco Catalyst switches. Since this is a switch that not a lot of people may have come across, I am going to provide a quick summary to highlight important characteristic of the switch and clarify switch hardware configuration so you do not have to spend hours going through Cisco documentations. The same information can be found on the datasheet and hardware install guide of the switch.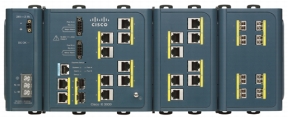 Cisco IOS based software. Support both L2/L3.
Operating temperature ranges are -40 to 167ºF (-40 to 75ºC) compared to -5ºC to +45ºC of 3560X/3750X.
Base unit (required) comes with either 4 or 8 10/100 ports and 2 10/100/1000 dual-purpose uplink ports.
Support up to 2 expansion modules, both PoE and non-PoE.
Maximum of 24 ports with 2 uplink ports.
Ports on all modules are 10/100 so this switch will not work if you have 1G requirement.
Base unit can be powered from a direct DC power source or an AC power module.
Non-PoE modules can be powered from the base unit when they are connected together. No additional power source is required.
Each PoE module requires either a direct external DC power source or an AC power module specifically for PoE (different from one used with base unit). To emphasize, if you plan to install 2 PoE modules with AC power source, you will need 2 AC power modules.
AC power modules can only be used for regular PoE. If PoE+ is desired, external DC power source is mandatory
Pay special attention to mounting instruction as it has unique form factor.
References:
Cisco Industrial Ethernet 3000 Switches Datasheet
Cisco IE 3000 Switch Getting Started Guide
Cisco IE 3000 Series Switch Hardware Installation Guide