You are here
Cisco WLC (Advanced) Video Bundle
Topic:
Cisco Wireless LAN Controller (Advanced)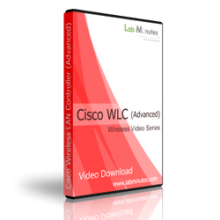 This video bundle features a complete video download set for
Cisco Wireless LAN Controller (Advanced)
. With over 19 hours of lab video tutorial, you will be able to get up to speed and become more familiar with the technologies. Buy this video bundle and view them locally on your computer at your own pace without internet connection, and also save over 20%. This video bundle provides configuration procedures for implementing advanced Cisco unified wireless solution based on AireOS platform. You should already have some familiarity with Cisco wireless technology and a working wireless environment before viewing this video series as we will not cover foundation of wireless but instead will be focusing on specialized wireless features. This bundle is designed for seasoned network engineers who want to expand their knowledge on capabilities of Cisco wireless or those that are studying for Cisco Wireless Certifications. Novice wireless users are advised to review our
Cisco WLC (Basic) Video Bundle
.
Not knowing which video to start with?
All videos in this bundle can technically be watched in any order if you are only interested in certain features. For those that would like to maximize their learning experience, we recommend watching all videos in numerical order as there might be some configuration dependencies from the previous videos.
Video List
WL0021 - WLC AP Group and RF Profile

30:37
WL0022 - WLC AVC and Netflow

43:40
WL0023 - WLC mDNS and Bonjour Gateway

56:18
WL0024 - WLC mDNS Profile and Policy

43:12
WL0025 - WLC Multicast VideoStream

51:55
WL0026 - WLC Voice over WLAN and QoS

84:10
WL0027 - WLC Local Device Profiling and Policies

52:39
WL0028 - WLC Miscellaneous Security Features

49:54
WL0029 - WLC Management Frame Protection and 802.11w

43:08
WL0030 - WLC CleanAir

59:43
WL0031 - WLC Rogue Detection and IDS

84:51
WL0032 - WLC Mobility Group L2 and L3 Roaming

67:59
WL0033 - WLC Mobility Anchor

63:08
WL0034 - WLC FlexConnect Fundamental

81:33
WL0035 - WLC FlexConnect Miscellaneous Features

50:50
WL0036 - WLC Office Extend AP (FlexConnect)

61:52
WL0037 - WLC Office Extend AP (OEAP600)

84:36
WL0038 - WLC 802.11u and Hotspot 2.0

56:16
WL0039 - WLC Mesh AP

75:56