You are here
Cisco UCS-E Video Bundle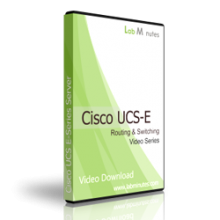 This video bundle features a complete video download set for Cisco UCS-E Series Server. With over 2 hours of lab video tutorial, you will be able to get up to speed and become more familiar with the technologies. Buy this video bundle and view them locally on your computer at your own pace without internet connection, and also save over 20%. 
Not knowing which video to start with?
The video does not need to be viewed in any particular order but if you are new to the technology, we recommend you view the videos in sequential order.
Video List
RS0071 - UCS-E Introduction

17:02
RS0072 - UCS-E CIMC Recovery

24:07
RS0073 - UCS-E CIMC Configuration

49:54
RS0074 - UCS-E Upgrade

14:01
RS0075 - UCS-E ESXi Installation

20:10