You are here
Cisco ASA Firepower 6.0 Video Bundle
Total Duration:
5 Hours 30 Minutes (approx.)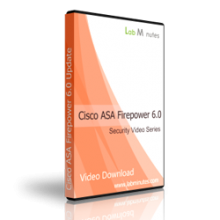 This video bundle features a complete video download set for Cisco ASA Firepower 6.0 updates. With over 5 hours of lab video tutorial, you will be able to get up to speed and become more familiar with the technologies. Buy this video bundle and view them locally on your computer at your own pace without internet connection, and also save over 18%.
This video bundle is complementary to our original Cisco ASA Firepower video series, and exclusively focuses on new features introduced in Firepower 6.0 release. There is very little content overlap between this series and the previous one. You must not expect to gain complete knowledge of the technology solely from viewing this video series. It is recommended that you have either basic understanding of Firepower, have some prior configuration experience, or have watched our original Cisco ASA Firepower video series as we will not cover Firepower basic features in detail in this series.
Not knowing which video to start with?
We recommend you to start with the feature and web interface update video (SEC0224) to get basic overview of what is new in this Firepower release. Subsequent videos can be skipped around as these labs are built with minimal dependency of one another, although we still recommend you view them sequentially if possible.
Video List
SEC0222 - ISE 2.0 pxGrid with ASA Firepower

62:33

SEC0224 - ASA Firepower 6.0 New Features and Web Interface Update

43:49
SEC0225 - ASA Firepower 6.0 Multiple Domain Management

37:09
SEC0226 - ASA Firepower 6.0 URL and DNS Security Intelligence

54:12
SEC0227 - ASA Firepower 6.0 Passive and Active Authentication

60:00
SEC0228 - ASA Firepower 6.0 SSL Decryption

48:13
SEC0229 - ASA Firepower 6.0 Certificate-Based Access Control

27:37